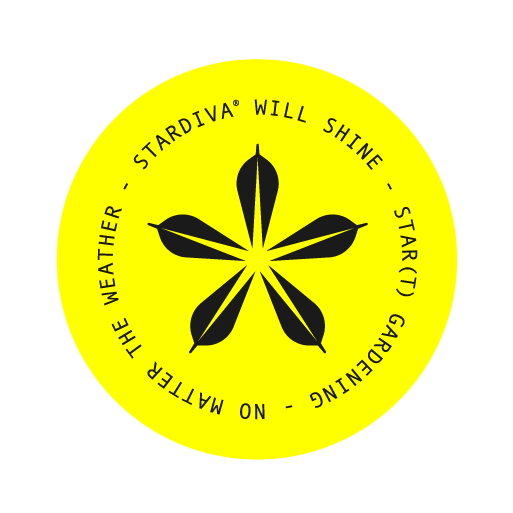 You may have already read or heard that I'm special and have supernatural all-weather garden performance powers. But what does "no matter the weather" exactly mean? I will explain my special features below for you. I'm resistant to wind.
Strong wind can shake me without harming me. I like it when the wind blows and caresses my branches, leaves and flowers. But what I like most is to remain unchanging under its blowing; I don't let it disfigure me and affect my sinuous semi-trailing habit shape. I'm heat-tolerant.
Like everyone else, I love to be in the sun when it is high up in the sky. However, if you have to use sunscreen to protect yourself a little from its rays, I can rely on my inner resistance to withstand temperatures as high as 35°C without losing my brilliance in flowers and leaves colour. I'm resistant to rain.
Are you afraid of summer showers? I am brave enough to say I am not. I like being under them without getting in trouble. I have strong recovery abilities to start shining again even after the worst. I'm cold-resistant.
Brrrrr, it's cold outside, but I flower even with just 5°C. I don't get scared of the cold. I keep my leaves and flowers with me and enjoy the moment preparing for a new season. My family is famous.
Few can boast of being part of a famous family. The MNP / Suntory family where I come from is the same as the successful brands like Surfinia® (trailing Petunia), Sundaville® (Mandevilla/Dipladenia), Senetti® (Pericallis), Million Bells® (Calibrachoa), Princettia® (Poinsettia) and Surdiva® (Scaevola). I have unique flowers.
Before you even look at me, my name says it, but please take a moment to admire my unique star-shaped flowers because you have never seen anything similar, at least not in the Scaevola (aemula) family. I like shades.
Place me even in the shade; I'll be a diva anyway. Place me wherever you want; no matter if your balcony is half in shade and sun, I will survive darkness and light, staying beautiful and eye-catching. I attract vegetation.
I love nature, insects and mammals. I am sure you will also like it when we have created a small wildlife ecosystem in your garden.
What professionals say about me!
"Stardiva® is revolutionary if you consider its star-shaped flowers with the traditional flower shape of Scaevola eamula like on our Surdiva® brand. Which nickname always has been the "fan flower'. We now have to review the species as a whole for the better!

Paul Jackson

Floricultural specialist
"For a marketeer in floriculture, Stardiva® is a real treasure. And to market, it is a feast in terms of unique selling points. It has almost too many good features that it is hard to choose which to emphasise. It's the shape, the quality; everything is golden.

Erwin Giezen

Floricultural marketeer
"Stardiva® is the ultimate annual plant for modern consumers in terms of quality, flower power, trendiness, and sustainability. Stardiva® makes gardening fun again for everyone. And due to its tone of voice, it also appeals to young gardeners of the 21st century.

Francesca Lanzillotta

Communication specialist
Questions? Get in touch!
Stardiva™ Star White

Stardiva™ Star Blue

Stardiva™ Star Lavender
I'm committed to a better future
Did you know that I have my own forest? We recently partnered with WoodYouCare to set a goal of planting a minimum of 500 trees per year. You can also plant your tree in our forest in Indonesia!
Plant a tree in our forest
With the 'Star(t) gardening mo(ve)ment' I move young and old to start gardening. Together we can help nature reclaim its wildlife habitat, starting from your garden. Join me and see what you can do!
Star(t) gardening today
Women are my besties. Therefore I support the local Pink Ribbon Foundation and who are suffering from or have been affected by, or who work to advance the understanding of breast cancer.
Pink Ribbon Foundation